Are you looking for these qualities?
Professionalism, Responsiveness, Punctuality and Value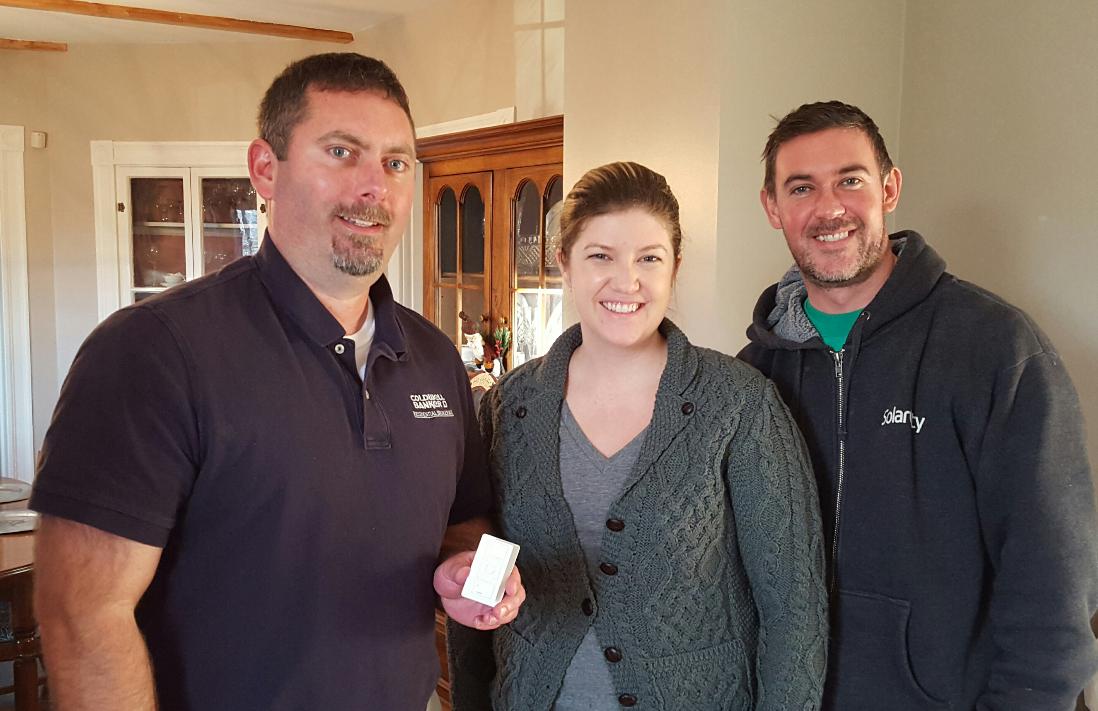 Will W. -
We love our new Nest doorbell. Jonathan did the installation, and gave me a Nest tutorial in less than an hour. Having someone do the installation the right way the first time saved me many hours of frustration. I would highly recommend Smart Home Solutions LLC for you smart home needs.
Anonymous from Rowley -
Smart Home Solutions was excellent. They were quick and positioned the cameras really well. It was important to me that the wires stay hidden and they did a great job with that. Professional, fast, great service!
Anonymous from Swampscott -
Very professional - Clean install - Easy to work with! Would highly recommend!
Peter S. from Gloucester -
I found them to be prompt and very responsive to my thoughts on what I was looking for when installing my camera . They were very thorough and safety minded.
Diane & Chris -
We contacted Jonathan Davis at Smart Home Solutions because we were having difficulty with our Nest thermostats. Jonathan was great - he was able to figure out the problem and fix it in a timely fashion. We are having him back to install additional Nest products.
Anonymous from Beverly Farms -
Jonathan did a great job installing my Nest. I had tried to install myself unsuccessfully and had my handyman also give it a shot. When Jonathan arrived, he did a great job trouble-shooting the situation and quickly and effectively fixed the problem and installed the Nest. He was easy to work with and very knowledgeable.
Garrett P. from Beverly -
We just had Jonathan and his crew here installing an additional camera and a smart door bell. Extremely professional, fairly priced and very respectful of our property. I highly recommend!
E. Rich from West Newbury -
Jonathan is very knowledgeable and responsive. I ran into an issue due to a lack of a C wire. He knew exactly what to do and was able to quickly diagnose and resolve our issue. I would absolutely recommend Jonathan to a friend or family member.
Marianne from Gloucester -
We were very happy with Jonathan's work to install our Nest thermostat. He communicated with us promptly after my first inquiry and every step along the way. While on site he was efficient and explained the operation of the thermostat and the app. We recommend him highly.
MR from Marblehead -
Very responsive from initial inquiry to setting up an appointment to install 2 Nest Learning thermostats in our 100+ year old house. Jonathan and Lance are a great team. There is no way my husband and I could have installed these ourselves. They spent time showing us how to set up and control these devices and happily answered follow up questions via email. Look forward to having them back to help us upgrade our home entertainment systems.
Craig from Danvers -
Jonathan was super fast to respond and got out to do the installation within a few days. He was professional and helpful with the tutorial making it a great experience.
Anonymous from Newbury -
Arrived on time. Very efficient and communicated throughout the installation process. Answered all questions. Highly recommend.
Gary O. from Byfield -
They arrived right on time. They intensely solved the problem and immediately went to work. No problem seemed too difficult for them. I am extremely pleased with their work.
Billy E. from Malden -
When my nest thermostat randomly stopped working one morning, I was pretty stressed as I have a 3 month old, and the temperature was predicted to drop that night. One call to Jonathan and he actually rearranged his work schedule that same afternoon, solely in order to come out and troubleshoot the problem. Just a few short hours later, the issue was identified, the problem was fixed, and the heat was back on. Jonathan was professional, knowledgeable, reasonable and accommodating. Couldn't recommend him enough.
Mike W. from Swampscott -
Smart Home Solutions did a great job with installation of 2 Nest thermostats in my home. The whole process was very professional, including the physical installation, debug of some minor problems and training on the use/programming of the unit. I'd highly recommend them.
Anonymous from Medford -
Very friendly, very professional
Greg B. from Melrose -
They came and investigated the problem. Found a good solution and installed the necessary repair. Very professional, at a very reasonable cost. I can and do highly recommend Smart Home Solutions.
Anonymous from Amesbury -
Worked with me on the timing for installation. Checked in before the appointment, came on time and completed the work on time. Good work.
Brian from Andover -
Jonathan was quick to respond and was knowledgeable and efficient with his work. He did a great job with the installation and troubleshooting of my nests and I am grateful for his help and support. Thanks Jonathan!
Dan from Gloucester -
Highly personable and professional. Both people appeared skilled at the task and good at adapting to unforeseen challenges, like threading wires through our wall spaces where there are oddly placed cross pieces. (It's an old house, 1815, not stud construction) The work was efficient, nothing to clean up afterwards and the intro to the technology was clear and easy to grasp, though we are left now with some homework to take full advantage of NEST's capacities. I'd use them again for anything related to smart technology.
Ian from Salem -
Jonathan was timely, well priced, and professional. He fully understood the product and did a great job installing and explaining the nest. I am very pleased.
Very Satisfied from South Hamilton -
Jonathan was excellent. He was very personable, informative and overall just a nice guy. He made sure that we understood how to use the NEST thermostats 100% before he left. Jonathan was very upfront about any potential power issues that we might have going forward with regard to charging the units without having a C-Wire. He came with his own vacuum and made all of the wall installations nice and neat. If you are getting new thermostats it's totally worth it to have someone like Jonathan take care of it. You will know that they are installed and working properly, you will have the proper training and have all of the software and apps installed and communicating with your units before he leaves. Totally satisfied and will use Smart Home Solutions again, if needed, for other home devices.
Chris B. from Beverly -
Jonathan was very friendly, knowledgeable, polite, and flexible with my schedule. He was also very reasonably priced for the work. He did excellent work.
Andrew from Merrimack -
Was about to give up and return my nest after multiple calls to HVAC companies and electricians went unanswered or was brushed off saying my system was incompatible. Then came across Smart Home Solutions who you could tell actually cared and were willing to help. We scheduled an appointment and they showed up on time, did a professional job, determined my nest was actually compatible and had it set up and running in under 30 minutes. I would definitely recommend them for any smart home issues you may be having.
MH from Beverly -
Smart Home Solutions did a great job with my Nest Thermostat install. Unfortunately, my system required a C-wire so the only solution was to run a new 5-wire. The install was scheduled and they arrived perfectly on time and although the job faced some challenges they communicated well and there were no surprises. In the end they left the site clean and everything works perfectly. Thank you!
Peter K. from Topsfield -
I was very impressed with the team that installed our Nest E thermostat. They took the time to go over all the new features including linking our IPhones to the Nest E so we can control the heat and AC from work or our home in Naples FL! The old thermostat was from 1960 so it's a big upgrade. Very happy we chose Smart Home Solutions for this project.
Leslie P. from Hamilton -
We had a great experience with Smart Home Solutions. Jonathan is so professional & personable. He took the time to really listen to us & what our needs were. He provided recommendations that fit our functional & budget requirements with a quick & painless install. We would highly recommend Smart Home Solutions!
Michelle B. from Danvers -
Jonathan was prompt, professional and friendly. He asked for information ahead of time, so his in-home visit was quick and well planned out. He explained what he was doing and how to use the thermostats once they were installed and connected. His pricing was very fair. I wouldn't hesitate to recommend Smart Home Solutions LLC - they do a fantastic job.
Gail from Beverly -
Great value provided. Product was installed properly. In addition, the technician spent time installing the app on my devices and training me on how the products work. Now I can be sure I'm saving as much energy as possible.
Jane from Topsfield -
Knowledgeable, professional, and on time! The installation was smooth, and the demo of the devices and the apps with all the features was well worth the cost. We are very happy with our new Nest thermostat, camera, and smoke/CO detector.
"We had a great experience with Jonathan. He was extremely knowledgeable about what device was best for our home and then installed it professionally."
info@techswhoconnect.com
(978) 969-0496
Subscribe to our Newsletter!
Click below to enter your email address