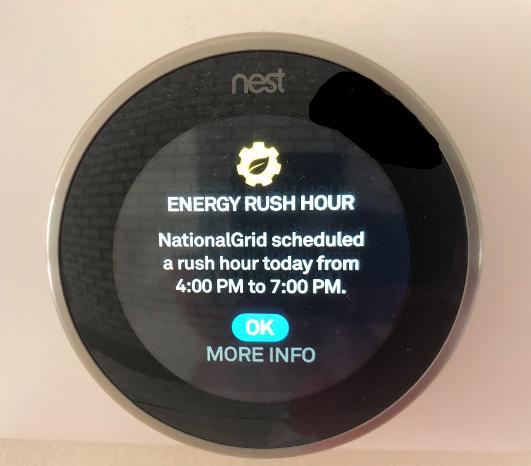 Participating in Nest summer Rush Hour pays off, literally!
Energy rush hours occur when all houses in a geographic area turn the air conditioning on at once. This creates an energy demand peak that can cause utility companies to bring seldom used power plants online to meet the need. Those plants are costly to run for short periods of time.
Here is the message I received from National Grid:
"Thank you for participating in National Grid's ConnectedSolutions

program this year. Please redeem your gift card below as a token of our appreciation for your continued energy-saving efforts.
By allowing us to adjust your thermostat during the hottest days of the summer you helped reduce peak energy demand. Our programs collectively decreased energy demand equivalent to taking 400,000 homes off the grid during peak times across Massachusetts, Rhode Island, and New York and helped reduce pollution and the cost of energy!"
By taking part in a Nest Rush Hour you contribute by using less energy during those peak times which utility companies are willing to reward you for. Once you sign up to participate the Nest thermostat will automatically change temperatures leading up to and during the rush hour period to use less energy. If you get uncomfortable you can always override the temperature.
My energy provider National Grid has rewarded participating customers with a $25 gift certificate. Well worth not having my AC running for a few hours on a couple of warm summer afternoons when it was likely that no family members were home anyway. Every energy company handles the rewards for consumers differently so you will want to check with your provider for specifics. Participating saved me money on my electric bill during the summer and gave me an extra $25 to spend on the holidays!