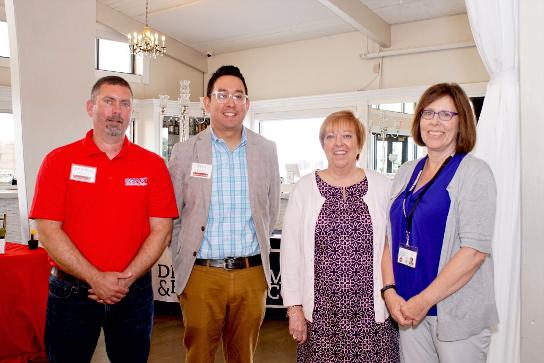 What is a Smart Home Professional?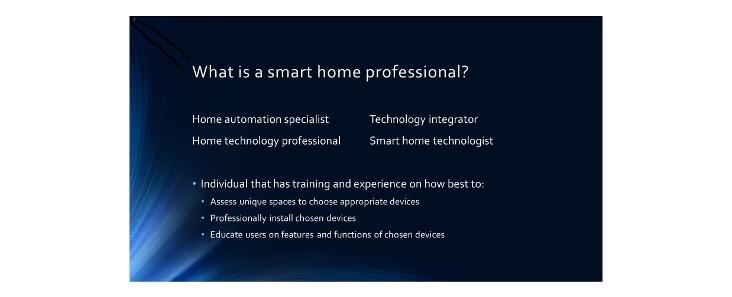 The term smart home professional is relatively new, say in the last 5 - 8 years. Some other names you might hear industry professionals called are; home automation specialist, technology integrator, home technology professional or my personal favorite smart home technologist.
Regardless of what they call themselves, the role of the smart home professional breaks down into three components;
1. They can assess every unique space to assist with choosing the appropriate devices
2. They can professionally install the chosen devices
3. They can train and educate users on the features and functions of the chosen devices
Put all three of those skills together and that is what makes a smart home professional. Also know these are individuals who often have received special training, have additional support resources available to them from product manufacturers, and most importantly have experience with the products.
Now that we know who a smart home professional is let's look at the benefits of working with that individual.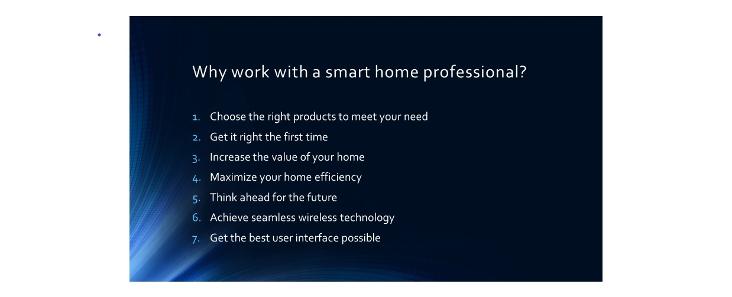 People often start their research online when contemplating any decision and exploring smart home technology is no different. While a good place to start, getting advice from a professional can ensure you implement and utilize devices to their full potential.
Here are seven key benefits to working with a professional.
1. Every living space is unique. Experts can recommend the best products to achieve your smart home goals while also considering your budget.
2. Manufacturers tout the DIY approach to implementing smart home devices. The reality is that working with a professional minimizes the risk that things get set up wrong. Getting that expert advice will ensure that you fully understand what products work well together and which ones are right for you.
3. Installing smart home technology is an investment in your home and its value, just like a renovation would be. Home buyers are on the lookout for smart homes and demand for these systems can give a home a competitive advantage when it is time to sell.
4. Energy consumption is a topic on everyone's mind. A smart home professional will help you improve your home's efficiency by implementing smart technology.
5. When integrating smart technology into your home, it is important to allow for the possibility of future integrations.
6. Most smart home devices connect and communicate through wireless technology. Lack of signal strength will cause connectivity issues that will degrade the user experience. A professional can identify and resolve issues which interrupt or slow down your network.
7. Seamless integration for all smart home devices is not easy as you would hope. A professional can help you minimize the number of user interfaces you must interact with to control the devices you implement (think less Apps on your phone).
To summarize: the reality is smart home automation is no longer just for the luxury market. Homeowners at all price points are interested in this technology that is now affordable for everyone. As you consider implementing this technology in your home or business partner with a smart home professional, the earlier in the process the better.