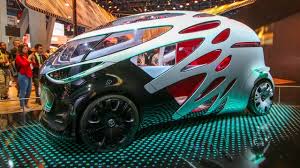 What Smart Home trends will emerge in 2019?
Homes are getting more efficient and smarter as 2019 begins. This advancement is being fueled by smartphones, tablets and smart hubs interacting with connected devices. From thermostats to door locks, entertainment systems, lightning controls, shades, irrigation systems, cameras, basic security systems etc. there appears to be no end in sight to this "smartening" of the world around us. Here are some key areas with trends you should expect to see in 2019 including one area that highlights some changes to that large smart device in your garage with four wheels.
Wellness – home innovations related to wellness will become standard features for homeowners. Lighting, sleep-related technologies, sounds, smells, and visuals all can have significant impacts on productivity, memory, mood, and more. Indoor air quality sensors will be the foundation of systems designed with these sensory areas in mind to improve well-being of the homeowners.
Robotics – you hear a lot about artificial intelligence being the next real tipping point in the future of smart technology. Truth be told no smart device will be left untouched by artificial intelligence. In 2019 the area impacted the most by artificial intelligence will be robotics. While Rosie the Robot isn't quite likely to start contributing to the housework don't be surprised if you find yourself bringing home a robot vacuum that is worth the investment.
Vehicle Technology – making cars safer has been a mantra in the automotive industry for decades, rivaled only by the focus on fuel efficiency. Now that electric and hybrid cars are mainstream there are more smarts to focus on safety improvements. Providing improved safety for everyone is paramount. However, 2019 will not disappoint as manufacturers have also focused resources on making drivers more connected in their vehicles. In-Vehicle infotainment is something you are sure to become more familiar with in the coming year as consumers are introduced to personalized and customized experiences that are part of the connected, assisted, and automated driving experience unique to the 21st century.
Plumbing – I've mentioned before that the bathroom was soon to be invaded by smart home devices. While homeowners will see the more visible examples like smart mirrors, faucets, toilets etc. what is quickly getting a lot of attention is the advances inside the walls and floors. There is technology available today that can help protect your home from water leaks. You will hear more about this in 2019.
As the smart home revolution continues to move throughout your home the integration challenge remains paramount. Devices from multiple manufacturers are finding their way into our homes making it necessary for vendors to emerge that can handle that integration into one app. Whether smart speakers with artificial intelligence are enough or full-blown applications are needed to make this integration possible remains to be decided.
Those smart devices that have become normal in the home are the tip of the iceberg. Smart and connected devices are now appearing beyond the property you own. If you think your home, inside and out, and garage are already smart, wait until the concept of the smart city takes shape around us.
About Jonathan Davis, Realtor®.
Jonathan Davis is affiliated with Coldwell Banker Residential Brokerage in Beverly, MA. He has been Smart Home Certified by Coldwell Banker and is excited to bring that knowledge to the professional services he provides homeowners. Visit jonathandavisrealestate.com/cp/smart-home to learn more about Smart Home technology.
Jonathan Davis also founded Smart Home Solutions LLC in 2016 to be the local leader in bringing truly remarkable service to all residential and commercial consumers of smart technology on the North Shore.
About Smart Home Solutions LLC
Smart Home Solutions LLC provides smart device assessment, education, installation, and troubleshooting services on the North Shore of Massachusetts. Please visit techswhoconnect.com or find us on Facebook at facebook.com/techswhoconnect.