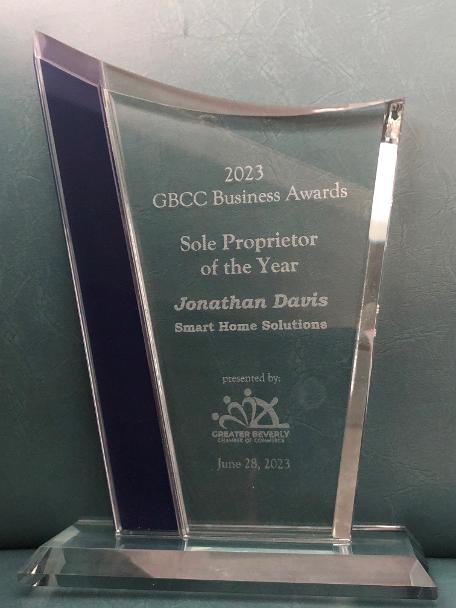 "Sole Proprietor of the Year" Business Award
Jonathan Davis, owner of Smart Home Solutions Wins "Sole Proprietor of the Year" Business Award from the Greater Beverly Chamber of Commerce
(Beverly, MA, Press Release June 30, 2023) – Smart Home Solutions LLC is excited to announce that Jonathan Davis was recognized at the Greater Beverly Chamber of Commerce 12th Annual Business Awards. He was the recipient of the 2023 award for Sole Proprietor of the Year at a ceremony that took place on June 28th at Danversport, the largest ballroom on the North Shore.
A proud member of the GBCC, Smart Home Solutions is dedicated to positively impacting the entire North Shore community. Jonathan believes that every homeowner can take advantage of the additional comfort, convenience, efficiency, and peace of mind that smart home technology can provide.
He said "I feel extremely honored to receive this award from the GBCC. Providing personalized assessment, professional installation, and tailored education services to clients all over the North Shore is a mission that gives me great satisfaction. I sincerely appreciate the GBCC's validation of the impact I have on my clients and the community."
A resident of Beverly, Jonathan is actively involved in many community-focused organizations in the city and surrounding communities.
About the Greater Beverly Chamber of Commerce

The Greater Beverly Chamber of Commerce is the premier business organization proudly serving Beverly, Danvers, and other surrounding North Shore Communities. For more information on the Chamber please visit their website: https://greaterbeverlychamber.com.
About Smart Home Solutions LLC

Founded in 2016 Smart Home Solutions LLC provides smart device assessment, education, installation, and troubleshooting services on the North Shore of Massachusetts. Please visit techwhoconnect.com/ or find us on Facebook at facebook.com/techwhoconnect/.

Media inquiries are welcomed at "info@techswhoconnect.com" or 978-969-0496.
About Jonathan Davis, Owner

Jonathan Davis founded Smart Home Solutions LLC in 2016 as the local leader in bringing truly remarkable service to all residential and commercial consumers of smart technology on the North Shore. His technical acumen draws from many years in Corporate Information Technology roles and his passion for leveraging technology to assist home and business owners to become more energy efficient and comfortable in their residences and places of business.

If you have home automation and technology questions contact us at 978-969-0496!
Subscribe to our Newsletter!
Click to enter an email address