Consumer Electronics Show 2018: WHAT REALLY MATTERS?
Paramount both at the show itself and in smart homes across the country is the constant reminder that no matter how innovative technology becomes, the infrastructure to operate it on is critical. Without power and/or networking capability all smart devices would be destined to return to unintelligent paperweights.
Predictions abound that the 2020's will reveal an interconnected world where we will be one with every device in our vicinity. For those predictions to materialize, the proliferation of Artificial Intelligence in the form of digital assistants will be necessary.
While TV & Home Theatre is still the category that makes the CES hum there was plenty of noise being made in the household products category. Alexa and her band of merry digital assistants are poised to take over in the kitchen, bathroom, and laundry rooms. Dumb products are certainly "out" while everything you can think of with an AI is "in". Light switches, thermostats, faucets, kitchen appliances, toilets etc. are all bursting onto the scene complete with a digital assistant already onboard and ready to help you.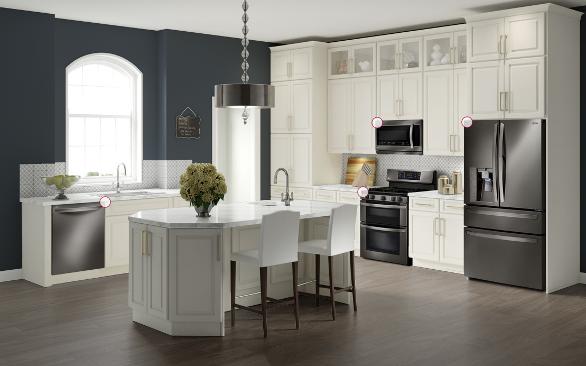 The LG ThinQbranded appliance line is ready to transition you to a fully connected kitchen. The InstaView ThinQ refrigerator acts as the general leading the troops through the battlefield that is everyday dinner preparation. By pulling up a recipe using ingredients still fresh in your fridge this general gets that oven pre-heated while providing step by step cooking instructions. Grocery list updates are made while you cook, rendering the days of shopping list writing obsolete. Finally, this refrigerator notifies your ThinQ dishwasher what the optimal cycle will be for the post dinner cleanup. It's a bold statement for an appliance maker to suggest a full suite of brand-new appliances today, but make no mistake they are all clamoring for your attention as the smart home revolution continues into the kitchen. The photo above is from LG's jazzy kitchen design web app.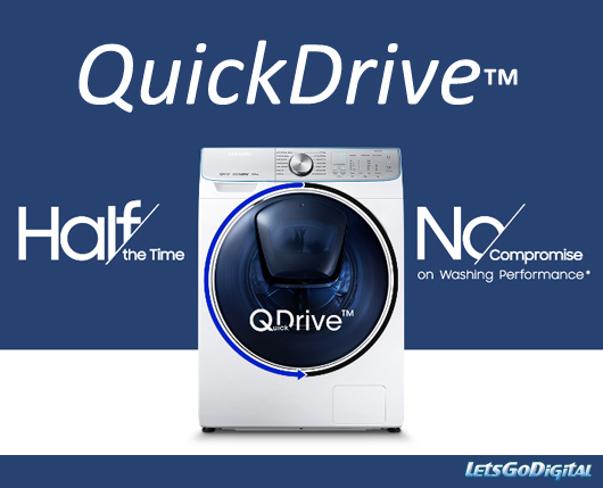 Smart washer/dryer hybrid appliances are not new; what is new this year is the digital assistant integration. Set up the proper alerts via Alexa, Google or even your Apple Watch to save you from all those trips downstairs to see if the current cycle is finished. Those alerts will become more important as devices like Samsung's QuickDrive washing machine make good on the promise to "wash your clothes up to 35% faster." While those claims haven't been fully tested, we can all be sure that most manufacturers are making progress in shrinking the size of laundry room appliances to better fit the variety of present day living spaces while also making advances in efficiency.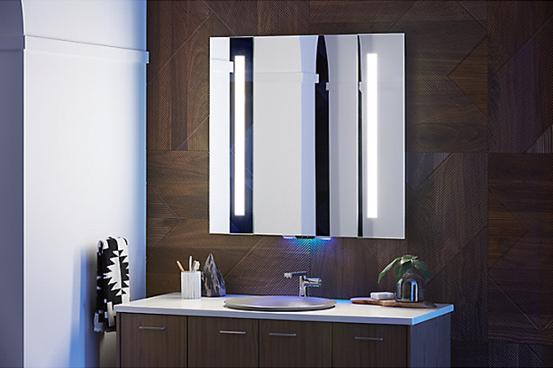 Also coming online is your bathroom, courtesy of Kohler (a well-known family owned 145-year-old manufacturer). While the bathroom is seen as a very intimate and personal space there are certainly many conveniences that technology can provide. I bet you can't wait to use an app or a voice command to control your shower, sink, mirror, and even your toilet. While Kohler has the largest suite of smart bathroom and plumbing fixtures they are not the only game in town. However, Kohler does get credit for leading the way working with the various digital assistant platforms to normalize the bathroom verbiage challenges (Tonight I asked Alexa what "flush" means. After giving me the NPR flash news, on a second try she went on for almost a full minute giving me definitions of "flush.")
The smart home revolution will spare no room in the house as we learned at CES 2018. Most consumers are simply not ready to spend the money necessary to completely convert on a room by room basis, which continues to accentuate the need for seamless integration – perhaps the proliferation of the digital assistants will bridge the integration gaps that currently exist in many homes striving to be smart.