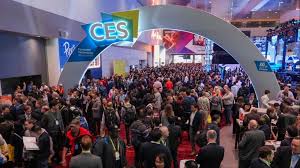 CONSUMER ELECTRONICS SHOW / LAS VEGAS 2019
THE LAS VEGAS HAPPENINGS THAT CAN'T STAY IN VEGAS!
This year's show certainly did not disappoint with tech giants Amazon and Google clamoring for everyone's constant attention.
The "Wow" tradition continued in the TV & Home Theatre category with LG showing off a rollable 65-inch 4K OLED TV. While probably not coming soon to many homes near you, the realization of the 'TV that disappears when not in use' is on its way. Smart TVs are now the default option for most homes and the partnerships between set makers and content providers is indicative of that fact. 2019 will be the year that Google Assistant and Alexa make their debut in our TVs. TCL and Roku have also made it clear that a new line of 8K TVs will be launched in time for the 2019 Holiday season.
The trojan horse of the smart home, also known as 'smart speakers,' were also making plenty of noise at the show. The Google Home Mini and Amazon Echo Dot remain firmly in their positions as the belles of the ball. However, a ground swell of third-party speakers materialized, all touting the built-in capabilities of Alexa and Google Assistant. In other news, Alexa was finally put to bed: with Dux literally building a smart speaker into a bed frame. Now you can control pieces of your smart home without putting your slippers on.
One of the primary benefits to making your home smart is security. Recognizing that security for most people starts at the front door, the competition to take over your doorbell is heating up. Ruled for the past 12 months by Nest, Ring and August the shakeup on your stoop has begun with newcomer Netatmo announcing a smart video doorbell that will be the first to integrate with Apple HomeKit. Others like First Alert, D-Link, Arlo, Alarm.com, and Yale are recognizing that securing the home has consumers' attention right now and their product arrays back that up.
Smart lighting, while no longer the sexy category, is certainly not being ignored. GE, Lutron, and Philips are leading the charge with innovation both in the quality of the light provided by bulbs and the integration with other smart devices to truly make multi-faceted scenes a reality. CES 2019 also did its best to convince attendees that if all the plugs and switches in your house aren't smart then you are stuck in the stone age. There is a plethora of options, most of which will help with that next level integration that consumers are likely to demand before long.
The smart thermostat category continues to chug along. In vogue right now are the room sensors that monitor temperatures away from the thermostat itself. Now the family room can be a comfortable 70 degrees, hallway thermostat temperature be damned. Things are happening in the kitchen as well with Samsung's smart fridge now capable of ordering you an Uber. Using Google Assistant, you can also check on dinner in the Instant Pot Smart Wi-Fi pressure cooker.
Other high-lights from the show; Kohler brought a futuristic smart toilet, Ecovacs now has a vacuum that recognizes things like socks and electrical cords, smart mirrors are getting a lot of attention, and while still quite expensive, Optoma revealed a smart projector that can give you a 120-inch image. The smart home category at CES 2019 was energized by Alexa and Google Assistant, which were found in virtually every device making them all seem smart.
About Jonathan Davis, Realtor®.
Jonathan Davis is affiliated with Coldwell Banker Residential Brokerage in Beverly, MA. He has been Smart Home Certified by Coldwell Banker and is excited to bring that knowledge to the professional services he provides homeowners. Visit jonathandavisrealestate.com/cp/smart-home to learn more about Smart Home technology.
Jonathan Davis also founded Smart Home Solutions LLC in 2016 to be the local leader in bringing truly remarkable service to all residential and commercial consumers of smart technology on the North Shore.
About Smart Home Solutions LLC
Smart Home Solutions LLC provides smart device assessment, education, installation, and troubleshooting services on the North Shore of Massachusetts. Please visit techswhoconnect.com or find us on Facebook at facebook.com/techswhoconnect.