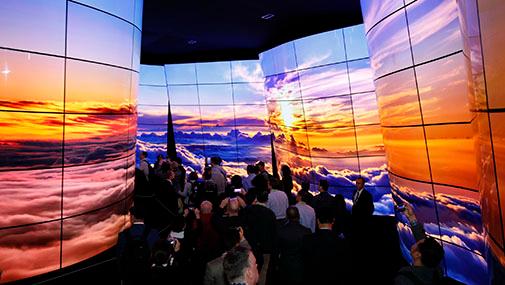 CONSUMER ELECTRONICS SHOW 2020
THE GLOBAL STAGE FOR INNOVATION – CONSUMER ELECTRONICS SHOW 2020!
This year's show certainly did not disappoint with the primary take away being the realization that every company is fundamentally a technology company.
The innovation taking place now in every company, regardless of size, will spark the global economy, challenge traditional business models, and reshape how we live our lives. This is especially true as companies tackle the task of addressing many of society's challenges. Lead categories that will define the next decade are artificial intelligence, digital health, 5G, and the concept of a smart city.
Artificial Intelligence was everywhere at CES 2020 and soon will be everywhere globally. While there certainly isn't a need to worry about AI replacing humans any time soon there is considerable capital being invested in working out the details so that AI can augment much of what we as humans do. As a parallel consider how computers have become so fully integrated into pretty much everything over the past 50+ years. The full integration of AI into our world will surely take less than 50 years; that efficiency is thanks to our increasing reliance on 'social networks' and individual devices that continue to minimize our true personal interaction with others.
5G will provide the capability for all things to connect but it's not here yet. There simply isn't enough infrastructure in place to support many 5G applications, but that is starting to change. Speed, reliability, and efficiency are the currency 5G will ultimately be able to cash in on. The news out of CES this year from cellular companies was limited to clarifying that most mobile devices shipping in 2020 will have 5G support. Those companies also reiterated previous announcements of 5G buildouts that are underway. The only wow moments regarding 5G this year came from the autonomous car demos. 5G is what connects these vehicles with centralized networks making them smarter so there is much to imagine and anticipate here.
Health technology was an exciting category at this year's show. The landscape is no longer dominated by just wearable devices. The intrigue of wearables continues as capabilities like checking for an arrhythmia, measuring blood oxygen levels, and monitoring for atrial fibrillation are added. However, there are some new items that will catch your attention. Remote patient monitoring is getting closer with devices that include diagnostic attachments for the heart, nose, lungs, mouth, throat and more. Smart home urine tests can measure hydration levels, ketones, electrolytes, etc. and give advice based on those results. Traditional rehabilitation of legs, balance, and posture for stroke victims is being challenged by smart devices that focus on dancing.
The challenge of designing a smart city is how to incorporate the appropriate level of security and inclusion while keeping an eye on the goal of making the solutions citizen centric. How the technology is paired with policy will greatly impact the true improvement to city residents' lives. Sub-categories like transportation offer an opportunity to image a smarter city with autonomous vehicles. Also clear is the ability of big data collected on pedestrian and vehicle traffic to prove useful in the deployment of emergency services. There is still much work to do as the vision for a smart city must address how the technology gets implemented keeping in line with an ever changing generally accepted social policy.
As this year's show closed all who attended left with a true understanding that companies long thought to be absent technology innovation are learning to transform their business using technology.