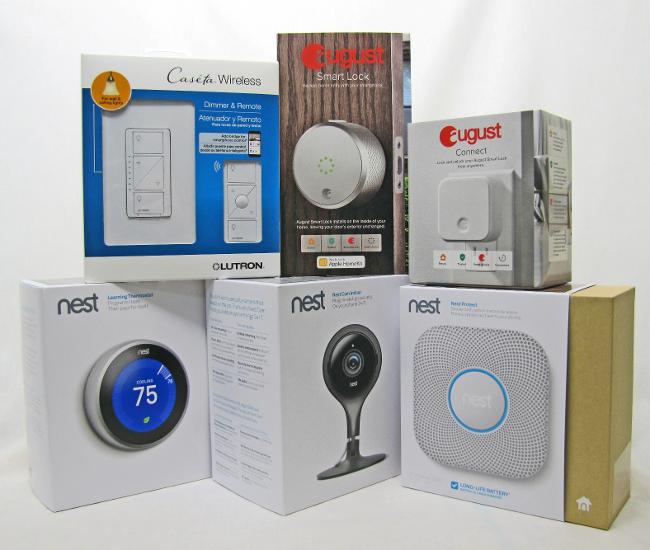 IN A SMART HOME, WHAT ARE THE MOST COMMONLY CONTROLLED DEVICES?
There are four major categories that common devices fall into: climate control, security, entertainment, and lighting. See the examples below for each category.
SMART CLIMATE CONTROL – also known as the SMART THERMOSTAT category
Marketing leader Nest works hard to educate potential customers on the basic fact that with their devices you can adjust the temperature of your home from anywhere. Ecobee, Honeywell, Sensi, and others make sure that you have a smart thermostat option no matter how your HVAC system is configured. Powering these devices is often the only hurdle necessary to clear before implementing this technology and realizing some of the energy savings touted in the marketing.
SMART SECURITY
You have the option to purchase an entire smart security system from several different providers. Both the newer smart home vendors and the tried and true security companies have full solutions to sell you. However, in most scenarios you can likely build your own system using a combination of cameras, doorbells or door locks, motion sensors, and door/window sensors. Even without police/fire monitoring you can achieve peace of mind with some smart choices.
SMART ENTERTAINMENT
I've had customers do countless hours of research before deciding on what smart entertainment products to buy. Smart speakers, smart televisions, smart projectors, smart streaming devices etc. make this category sometimes tough to navigate. It's also one of those categories where the price of devices can have quite a broad range, which means doing your research is important.
SMART LIGHTING
Smart lightbulbs and their accessories offer features such as timers and scheduling capabilities. Most are easy to install and use. If you go beyond bulbs and start looking to implement smart plugs, dimmers, switches, and enhanced features you will likely need some help. In the end you'll feel like a smart homeowner when you pair a smart garage door opener to those lights. Opening your garage door can send an alert that will automatically turn on the lights in your entry hallway and dining room. Combine that alert with smart entertainment components and enjoy music playing as you arrive home from work.
Homeowners with interests in more than one category will likely end up considering a smart home automation hub. Hubs like Samsung SmartThings, Amazon Echo, and Google Home can simplify daily use of most smart home devices. Amazon and Google offer further ease of use by providing digital assistants that you can manipulate using your voice.
Would you like to learn what opportunities exist to make your own home smarter using products from the categories above? Contact us today at 978-969-0496 to schedule a Smart Home Assessment!
About Jonathan Davis, Realtor®.
Jonathan Davis is affiliated with Coldwell Banker Residential Brokerage in Beverly, MA. He has been Smart Home Certified by Coldwell Banker and is excited to bring that knowledge to the professional services he provides homeowners. Visit jonathandavisrealestate.com/cp/smart-home to learn more about Smart Home technology.
Jonathan Davis also founded Smart Home Solutions LLC in 2016 to be the local leader in bringing truly remarkable service to all residential and commercial consumers of smart technology on the North Shore.
About Smart Home Solutions LLC
Smart Home Solutions LLC provides smart device assessment, education, installation, and troubleshooting services on the North Shore of Massachusetts. Please visit techswhoconnect.com or find us on Facebook at facebook.com/techswhoconnect.