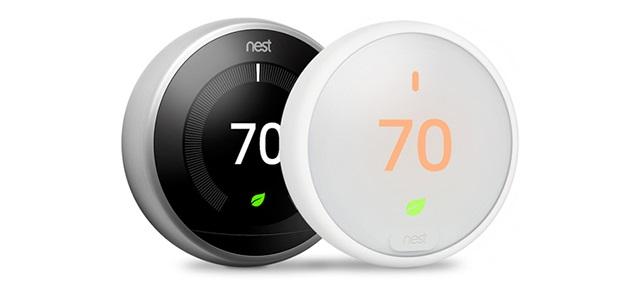 Please read carefully as the menu options have been updated!
Did you recently notice that the menu options have changed on your Nest Thermostat? Unlike your smart phone, where you must acknowledge and kick off any software updates, the Nest updates automatically. At some point this month your device would have been upgraded to software version 5.9.3-6. This update was the 5th made to the software this year (a frequency that is likely to continue). Whether you interact with your thermostat via your phone or by standing in front of the device it's a good idea to understand the new features.
The settings menu on your Nest thermostat is where you go to change the device's behavior. You can change what you see when the device detects your presence, set a schedule, etc. The type of system the device controls for you and the wires that are connected to it will dictate what options you have available to you. Here is a summary of the more important features currently available to optimize your Nest. If you don't see a feature mentioned here available on your device's menu that means your system does not support that feature.
Home/Away Assist – the Nest has two operating modes; Home and Away. When operating in Home mode the program/learned schedule for heating and cooling is used. When operating in Away mode the Eco Temperatures will be used to save energy when the house is empty. Enable this feature to automatically switch to Away mode when the thermostat senses that nobody's home, or you canmanually toggle the home and away setting from your phone.
Eco – the heating and cooling temperatures used when in Away mode. This feature helps you save energy.
Safety Temp – the heating and cooling temperatures that help protect your home from things like frozen pipes. These temperatures are maintained regardless of what mode your thermostat is in. The default settings are 40℉ for the heat with cooling set to off.
Sensor Schedule – adjust the Nest Temperature Sensor schedule for ideal comfort in the different areas of that zone.
Fan Schedule – use if you want to run the fan only to circulate ambient air in your home
Nest Sense – for if you are interested in having the thermostat learn about you and your home. Your system type will dictate which combinate of sensors and algorithms are used.
Reminders – turn this on if you want a reminder to change your air filter.
Nest Protect – if you have a Nest Protect installed and on the same account, use this option to set the system to shut off in the event of a smoke and/or CO emergency.
Display – here is where you can have the device wake up based on motion sensed or when you press it. Also specify what data appears on the screen first.
Brightness – for when the device is in a room where low light is best.
Energy Programs – local utility companies have established some energy saving programs that customers can opt into. Applicable programs will be listed here.
Click Sound – press here to toggle the device between having an audible click when turned or not.
Nest App – for verifying which Nest account the device is connected to.
Network – for verifying which Wi-Fi network the device is connected to.
Lock – allows only authorized users to adjust settings.
Equipment – shows what was selected during the initial setup.
Nest Pro – displays the contact information for Smart Home Solutions (provided we did your installation).
Software – check to see if you are on the latest version.
Technical Info – menu of data that is used when troubleshooting issues with the thermostat.
About Jonathan Davis, Realtor®.
Jonathan Davis is affiliated with Coldwell Banker Residential Brokerage in Beverly, MA. He has been Smart Home Certified by Coldwell Banker and is excited to bring that knowledge to the professional services he provides homeowners. Visit jonathandavisrealestate.com/cp/smart-home to learn more about Smart Home technology.
Jonathan Davis also founded Smart Home Solutions LLC in 2016 to be the local leader in bringing truly remarkable service to all residential and commercial consumers of smart technology on the North Shore.
About Smart Home Solutions LLC
Smart Home Solutions LLC provides smart device assessment, education, installation, and troubleshooting services on the North Shore of Massachusetts. Please visit techswhoconnect.com or find us on Facebook at facebook.com/techswhoconnect.