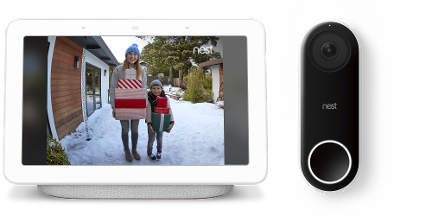 WONDERING WHO IS RINGING THE DOORBELL?
Halloween in the rearview mirror means it's on to Thanksgiving and the opportunity to reflect on all things for which one is thankful. Perhaps near the top of your list is the ability to look back at the footage from a smart doorbell and find out for sure just which neighbor "BOOed" you last month…What's that, you don't have a smart doorbell yet? If you decide it's the right time to add some smarts to your entryway, there is a straightforward way to navigate the options available to you.
First, think about your options for combining and integrating the doorbell with other devices. Having a smart doorbell means that when someone rings the doorbell you get notified on your smartphone or other connected device in your home. A live video feed to see who it is along with two-way audio to speak to the visitor are common features of these devices. Knowing who is there makes it easier to handle visitors like the neighbor kids looking to play or the UPS driver just letting you know there is a package on the steps when it is raining out. While not the primary intent, having a camera as part of your entryway could discourage burglars by encouraging them to move along as they may be captured on camera. You could also take the next step and integrate the smart doorbell with a smart lock, so you can remotely unlock the door for your visitor.
Next, it's important to know what you have. Do you have a mechanical system (chimes with the classic 'ding-dong' tone) or an electronic / digital system (chimes that have a speaker and play a tune)? Is your doorbell wired with power or not? Before mapping out the pros and cons there are a couple of important considerations. First consider how you plan to connect the smart doorbell. If you are replacing an existing doorbell that is already wired there are many brands that will meet your need. If you don't have a wired setup already you can either wire in a doorbell or look specifically at the battery powered versions. Next, decide if you care about looking back at recordings from earlier or just using the device as a real time tool. Then consider any future integration that you might explore (for example, pairing the device with a smart lock or integrating it with a security system like Nest etc.). Last but certainly not least, consider aesthetics. Some of the doorbells are bulky and won't fit on every surface while others will just simply stick out too much in your entryway.
Armed with these considerations you are ready to compare the features and benefits of the leading options. You have probably heard of the major players in the marketplace. Ring continues to be the market leader followed by Amazon, August and more recently Nest. I'd suggest building a chart comparing the features and including Soliom, Ring (three models being sold right now), Nest, Skybell, and August as all are considered best in class for at least one popular feature.