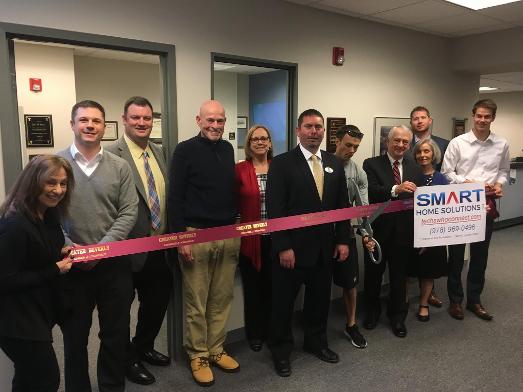 Ribbon Cutting Ceremony for SMART HOME SOLUTIONS LLC
Beverly, MA - Press Release - Monday,April 24, 2017
Smart Home Solutions LLC Official Ribbon Cutting Ceremony
In March the Greater Beverly Chamber of Commerce Board of Directors, Ambassadors and Staff cut the ceremonial ribbon welcoming Smart Home Solutions LLC to the Chamber. Led by Jonathan Davis, President, whose motto is "we are techs who connect", Smart Home Solutions LLC provides assessment, education, and installation services of smart home technology for residential living space and commercial properties on the North Shore.
"When I founded this business in 2016, my goal was to provide a one-stop shop for smart device technology implementation and education," said Jonathan. "It is clear to me that home automation is changing the way we live in and experience our homes. Homeowners are seeking more comfort, convenience, and energy efficiency delivered by these smart devices. Our mission is to assess how those products will work in your unique space, educate you about maximizing the benefits of those devices, and provide superior installation services".
About Jonathan Davis, Realtor®.
Jonathan Davis is affiliated with Coldwell Banker Residential Brokerage in Beverly, MA. He has been Smart Home Certified by Coldwell Banker and is excited to bring that knowledge to the professional services he provides homeowners. Visit www.jonathandavisrealestate.com/cp/smart-home/ to learn more about Smart Home technology.
About Smart Home Solutions LLC
Smart Home Solutions LLC provides product assessment, education, installation, and troubleshooting services on the North Shore of Massachusetts. Please visit http://www.techswhoconnect.com/ or find us on Facebook at https://www.facebook.com/techswhoconnect/.
About Coldwell Banker Real Estate LLC
Since 1906, the Coldwell Banker® organization has been a premier provider of full-service residential and commercial real estate brokerage services. Coldwell Banker Real Estate is the oldest national real estate brand and franchisor in the United States, and today has a global network of approximately 3,000 independently owned and operated franchised broker offices in 47 countries and territories with almost 85,000 affiliated sales professionals. The Coldwell Banker brand is known for creating innovative consumer services as recently seen by taking a leadership role in the smart home space, being the first national real estate brand with an iPad app, the first to augment its website www.coldwellbanker.com for smart phones, the first to create an iPhone application with international listings, the first to develop an iPad application (CBx) to easily bring big data into home listing presentations, and the first to fully harness the power of video in real estate listings, news and information through its Coldwell Banker On LocationSM YouTube channel. Coldwell Banker is a leader in niche markets such as resort, new homes and luxury properties through its Coldwell Banker Previews International® marketing program delivering exceptional experiences for all consumers served.