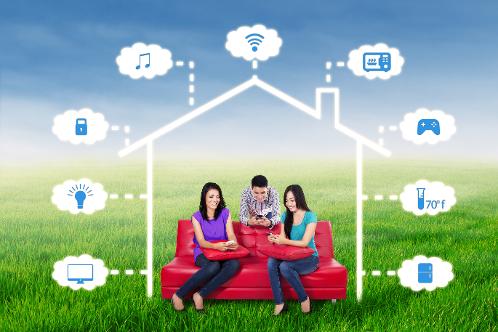 North Shore Smart Home for the Holidays Giveaway!
Beverly, MA - Press Release - Monday, December 5, 2016
Jonathan Davis, Realtor® affiliated with Coldwell Banker Residential Brokerage in Beverly, MA along with preferred installation sponsor Smart Home Tech LLC are taking the lead in Smart Home technology here on the North Shore. One of the ways the two are sharing their cutting-edge expertise is through the North Shore Smart Home for the Holidays Giveaway campaign.
Starting on Tuesday December 6th, for three consecutive weeks Jonathan Davis, Realtor® and Smart Home Tech LLC will be giving away a new Smart Home product which will be installed free of charge for you at a mutually agreed upon time. They will announce the product every Tuesday (12/6/16, 12/13/16 and 12/20/16) on https://www.facebook.com/SmartHomeTechLLC/. The winner will be drawn and notified the Thursday following the product announcement (12/8/16, 12/15/16, 12/22/16 respectively) between 10:00am – 12:00pm. To be eligible the winner must be a MA resident with an address North of Boston and East of Route 93 who owns the property in which the device will be installed. If you are eligible you are encouraged to like or share the product announcement post that is made each Tuesday. All FB users who have liked or shared the product announcement post by 9:30am on the respective Thursday will be included in the random drawing.
Back in July Coldwell Banker and CNET joined to produce the first ever definition of "Smart Home". "Smart Home technology has arrived and is changing the way we live our lives," says Jonathan Davis, Realtor®. "As demand grows for connected home products the term "Smart Home" is no longer a buzzword. In 2014 Smart Home was a $74 billion industry - that is projected to grow to nearly $400 billion by 2020. The emotional connection we have with our homes is transforming based on these products. 44% of home buyers who desire move in ready properties expect Smart Home technology, and that number will continue to grow. I am excited to use my Smart Home Certification knowledge to lead this transformation on the North Shore."
A recent survey* conducted by Coldwell Banker Real Estate LLC and Parks Associates revealed 57 percent of respondents would consider an older home "updated" if it had smart home technology.
So, who wants to buy a Smart Home?
61% of Millennials

52% of Gen Xers

50% of Boomers

59% of parents
According to the Coldwell Banker Smart Home Marketplace Survey**, the smart home is going mainstream fast - and the technology is addicting.
Almost half (45 percent) of all Americans either own smart home technology or planned to invest in it in 2016.

Of people who do not currently have smart home technology, more than one in four (27 percent) said they will incorporate it into their lives in 2016.

Of people who either have smart home technology or planned to buy it in 2016, more than one in three (36 percent) don't consider themselves early adopters of technology.

70 percent of people with smart home technology said buying their first smart home product made them more likely to buy another one.
Home buyers are most attracted to smart security and temperature.
When asked about the types of pre-installed smart home technology that would be most appealing if they were buying a home, most Americans said smart security (58 percent) and temperature (56 percent).

The least popular types of smart home technology to home buyers are smart appliances (e.g., smart refrigerators, washers and dryers (34 percent) and entertainment (29 percent).
Lance Eskelund, Senior Technician with Smart Home Tech LLC, shares "Nearly every home in our community now has wireless capabilities. That means your front door is wide open to welcoming this technology that is truly consumer ready. You don't have to be selling your home to implement this technology, give us a call and let us help you smarten your home today."
"Sellers are considering Smart Home upgrades with the same frequency that they consider reducing clutter and staging to make the home attractive. Smart home technology is no longer a novelty," says Jonathan Davis, Realtor®, of Coldwell Banker Residential Brokerage in Beverly, MA. "Buyers are favoring listings that feature Smart Home Technology. They are interested in smart features, such as automated locks, thermostats, and lighting to name a few. Across the board buyers and sellers are seeking more comfort, convenience, and energy-efficiency that is being delivered by Smart Home Technology."
About Jonathan Davis, Realtor®.
Jonathan Davis is affiliated with Coldwell Banker Residential Brokerage in Beverly, MA. He has been Smart Home Certified by Coldwell Banker and is excited to bring that knowledge to the professional services he provides buyers and sellers. Visit www.jonathandavisrealestate.com/cp/smart-home/ to learn more about Smart Home Technology.
About Smart Home Tech, LLC
Smart Home Tech, LLC provides product assessment, installation, education, and troubleshooting services on the North Shore of Massachusetts. Please visit http://www.smarthometechllc.com/ or find us on Facebook at https://www.facebook.com/SmartHomeTechLLC/. The company is now booking January installations at special introductory 2017 pricing.
About Coldwell Banker Real Estate LLC
Since 1906, the Coldwell Banker® organization has been a premier provider of full-service residential and commercial real estate brokerage services. Coldwell Banker Real Estate is the oldest national real estate brand and franchisor in the United States, and today has a global network of approximately 3,000 independently owned and operated franchised broker offices in 47 countries and territories with almost 85,000 affiliated sales professionals. The Coldwell Banker brand is known for creating innovative consumer services as recently seen by taking a leadership role in the smart home space, being the first national real estate brand with an iPad app, the first to augment its website www.coldwellbanker.com for smart phones, the first to create an iPhone application with international listings, the first to develop an iPad application (CBx) to easily bring big data into home listing presentations, and the first to fully harness the power of video in real estate listings, news and information through its Coldwell Banker On LocationSM YouTube channel. Coldwell Banker is a leader in niche markets such as resort, new homes and luxury properties through its Coldwell Banker Previews International® marketing program delivering exceptional experiences for all consumers served.