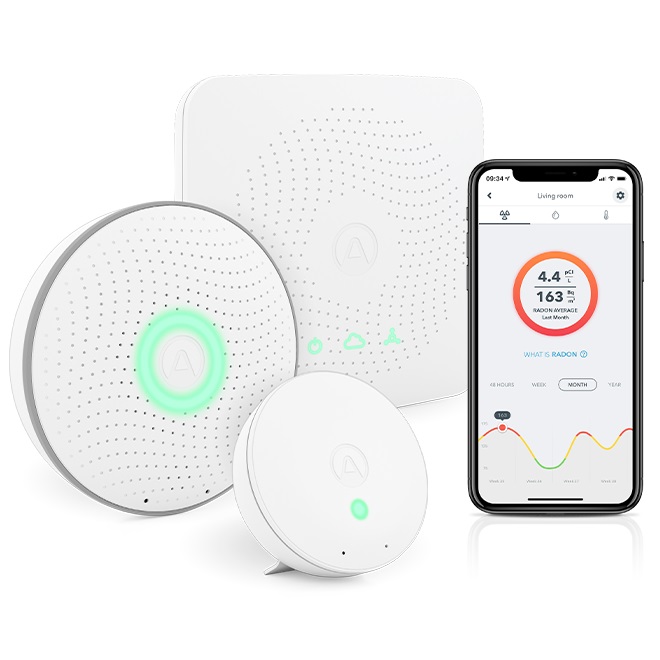 Smart Radon Detector 2nd Generation
RADON AND YOUR HOME – A BASIC UNDERSTANDING:
Radon is a radioactive, invisible, and odorless gas that comes from the ground, the level of which is proven to fluctuate daily. Radon is the number one cause of lung cancer among non-smokers. To gain full-time peace of mind about the long-term exposure of radon to your family, one-time spot checks are not enough. Continuous monitoring of radon levels is necessary. Which of the following do you identify with?
1. When you purchased your home, you had a remediation system installed. Is the system doing the job as intended?
2. When you purchased your home, you tested, and the result was acceptable low levels of radon. Have those levels remained at acceptable levels?

3. When you purchased your home, you decided against testing for radon, but you now see many homes in your neighborhood with remediation systems. Is it perhaps time to test?

4. You moved into your home in the late 1990's or early 2000's a little before radon testing became widespread. Is it perhaps time to test?
The Environmental Protection Agency has set 4 pCi/L as the accepted action level standard for residential properties. Homes measuring higher are advised to take remedial action to lower radon levels. Two-thirds of all homes in the US are estimated to exceed the recommended action level.
PERSONAL EXPERIENCE:
I fall into category #3 above. When I bought my house 8+ years ago it was before I was a real estate agent or a smart home professional. I point that out because like most of you I had little if any real understanding of what radon was beyond what was briefly explained to me by the home inspector. I chose not to have the test conducted at that time. A few years later after working with many home buyers who had tests done, I bought a kit from a big box store, conducted my own test, and sent it off for analysis. My two-day test results fell below the 4 pCi/L threshold, so I did not give it another thought.
Fast forward to today and 2020 has all of us spending more time at home than we are used to. An opportunity that I have taken advantage of as a result is to spend a little more time walking around my neighborhood. One thing I have noticed is the amount of my neighbors that have radon remediation solutions attached to their homes. This prompted me to do a little additional research on radon and its effects which further pressed me to reconsider doing another test of my own basement. Understanding the fluctuating nature of radon levels better today I finally settled on using a device that could provide continuous monitoring.
DESCRIPTION:
Airthings created Wave to be a solution for homeowners to take control and gain visibility into three indoor air factors: radon, humidity, and temperature. Data is available for review on the free app (iOS/Android) and an online dashboard with advanced analytic options. The device looks similar to a traditional smoke detector – a white puck that is 4.6" wide, 1.4" tall.
FEATURES:
3 Sensors: Radon, Temperature, Humidity

Color LED Glow Ring: Green / Yellow / Red

Battery Operated

Mounts: Ceiling, Wall, or Shelf

Wireless Connection to Smart Phone via Bluetooth

Daily, Weekly, Monthly, and Yearly Measurements Tracked
VIEW OF DATA CAPTURED IN THE APP
VIEW OF DATA CAPTURED ON THE WEB PAGE DASHBOARD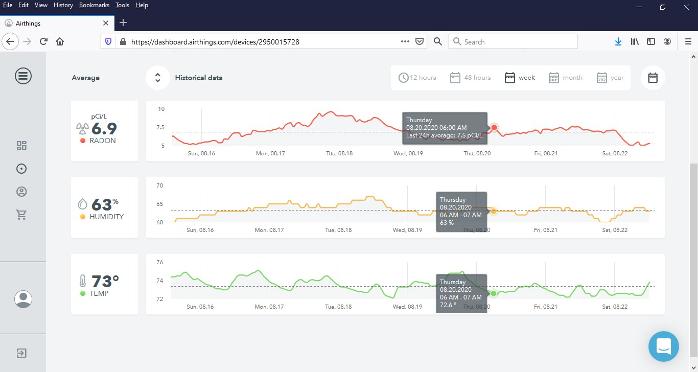 TESTING ALTERNATIVES:
Short term (2 – 4 days*) test kits can be purchased from many hardware / home improvement stores for less than $30. After the testing period the samples are mailed to a lab for analysis. The lab reports are made available for a fee that should be less than $75.

Longer term (90 – 365 days*) test kits can be purchased from vendors like "Radonova" for $59 - $125. After the testing period samples are mailed to a lab for analysis. The lab reports are made available for no additional fee.
* Both alternatives have testing periods with a defined start and end date.
INDUSTRY OBSERVATION:
December 2019 (University of Calgary) – "A new study finds the only reliable way to measure exposure to radon gas is with a long-term testing kit, 90 or more days. Researchers placed two test kits, a short term (five-day) and a long-term (90-day) in the same homes. Tests were conducted during summer and winter months. Findings showed the short-term kits were imprecise up to 99 percent of the time when compared to a long-term test."
TESTING OBSERVATIONS:
PROS
Continuous monitor of air quality

Cost is higher than a 1-time charcoal detection test

Accurate readings after 7-day calibration*
CONS
Bluetooth only – not connected to Wi-Fi

Can be moved to different rooms/floors
* Radon levels accurate to within 20% after a week and accurate to within 10% after a month
CONCLUSION:
While the Airthings Wave does not overwhelm with bells and whistles it serves its purpose well. It tracks radon levels accurately and does away with needing to regularly buy short-term testing kits. With what is known today about radon and the probable health impacts of being exposed to elevated levels of the gas over time this is a smart product worth investing in.
Implementing the Wave device will give you full time peace of mind by providing continuous radon gas level data for your home. The device is a valuable tool as you continue to provide a safe home for your family.
The Wave device has helped me determine that I need a remediation system for my home. Additionally, it will monitor radon levels after that remediation system is installed to make sure the air in my home remains safe without me constantly having to conduct short term tests.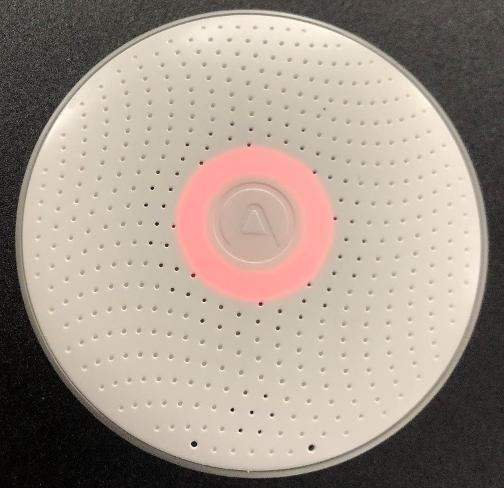 Smart Home Solutions LLC is not an expert when it comes to radon detection or remediation. However, we offer what is called a Smart Home Assessment service and a discussion about radon detection and remediation is a part of that conversation. The Smart Home Assessment is an opportunity to have a comprehensive roadmap to guide you along the journey to achieving 'peace of mind' as your home gets smarter. Contact Smart Home Solutions LLC today at 978-969-0496 to schedule an Assessment.